Your Permaculture Design Presentation
This is the last class in our yearlong #freepermaculture course
That third ethic, again
One of the things that makes our work as permaculture designers so important is the replicability factor. If we share our ideas and designs with others, they will get ideas too. They will get inspired, they will try new things, and maybe, just maybe, they will improve their relationship with nature! This is why we encourage you to present your design. We really want you to make the choice to share your work with the public, even if you only share some parts of it. This aligns with our third ethic, about sharing resources like knowledge and experience, paying it forward for the future.
As with other steps, but perhaps even more so at this moment, we remind you: don't rush this. Revel in the creativity of this moment, and take the time to learn how to present your work in a way that is beautiful, engaging, and leaves a mark on the people who see it. You will never regret having made time to acquire this skill set. Good luck!
This video tutorial will show you a quick and easy way to make a presentation video, using Zoom, (which you probably already use) and the Template we made for you on Google Slides. It's free!
psst--the video is excerpted from the final phase of the Permaculture Women's Guild online double-certificate Permaculture Design Course, so you will hear me yammer on a bit about their graduation requirements here. If you're not already enrolled in that course, and you're curious about it, maybe this will be interesting for you!
If you get confused about how to share your screen in Zoom, watch their tutorial here.
Don't forget about the Digital Toolshed, which includes a bunch of great suggestions for presentation and video editing apps.
Hands-On
Your final challenge: take your best draft of your work-in-progress whole-system permaculture design project, create a presentation video, and share it everywhere! Accept and respond to feedback, then continue your journey as an Earth steward, lifelong learner, and permaculture designer.
​and…CELEBRATE!
If you need personalized support for your projects, want to spend time with a dedicated mentor, and/or are ready to tackle the next level of permaculture skills, read on…
Friends, the moment has arrived!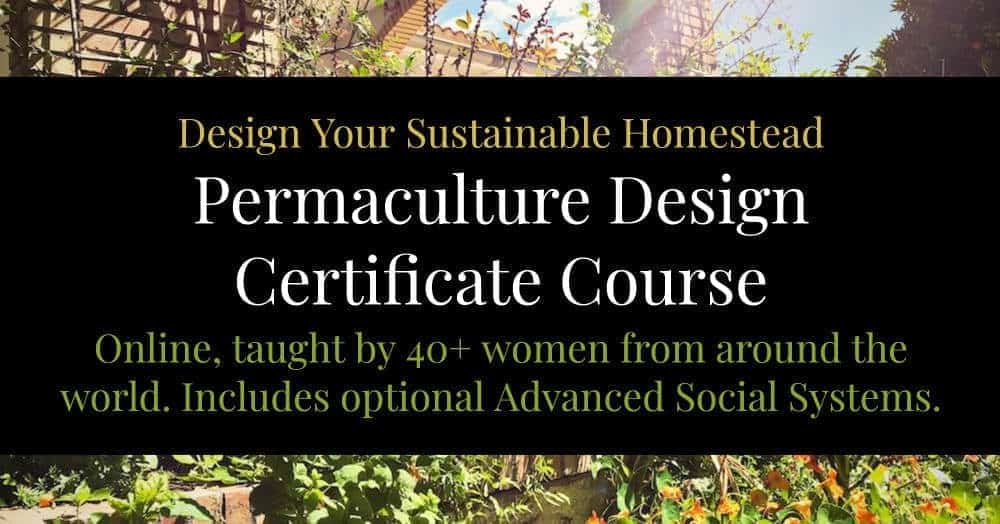 Permaculture certification isn't for everyone, and it's for sure not necessary for the average home gardener.​
However, if you want to get serious about finishing AND implementing your whole-system design projects, plus connect to a lifelong community that will help you grow, in your own neighborhood and beyond….
AND/OR if you want to learn how to make a living in a full-time permaculture niche, ​then you mustn't deprive yourself of the opportunity to engage in a professional and peer-reviewed Permaculture Design Course.
As you know, Permaculture Women's Guild offers an online, go-at-your-own pace certificate course that includes 1:1 mentorship and lots of perks.
Also, as you probably remember, if you made a tuition donation, at any time during the past year, you can apply it toward your tuition in the full PDC. To request your voucher simply send an email to team@freepermaculture.com and we will take care of you right away!