This is an evolving resource base, curating links, reviews, and tutorials for Digital Permaculture apps that help with permaculture design, but that do NOT require a monthly payment. (If you already use Adobe products, those will work just fine, but you may still find some apps here to be helpful.)
7 Reasons to use Digital Permaculture Tools for your Permaculture Designs
This section by Paige Payne.
It's easier to create layers. You can create one base map as your base layer. Then you can go in and create new layers for each of the maps you need to draw digitally. Simply click add a new layer, and it's done, you have a clean slate to draw on. With hand drawing you have to make actual physical copies of each and every layer starting with your base map. 
Less paper and waste thanks to Digital Permaculture tools. You can simply print the finalized version if you want actual paper copies. You don't need all of those extra drafts laying around.
It's super easy to erase or revise as needed. If you don't like something where it is, click on it and move it. You don't need to erase it or start another new draft all over from scratch.
It's easier to play around with layout of text and the overall look of the map without having to commit to the printed drawing (i.e. less erasing, paper, etc.)
The right digital tools will do the scaling for you. No math involved when you are trying to get creative! Yay!
The digital versions are so much easier to share via email, social media, etc.​
Digital tools make it easier to create clean and legible maps if your handwriting and drawing skills have not been refined. 
Digital Permaculture tools can be helpful for mapping "invisible" layers as well, such as in this example , mapping where ethics and principles show up in her design.
​Digital Permaculture: GOBRADIME
A handful of simple tools can make your design process and presentations flow so much better, and can really help ensure that clients, students, and stakeholders understand and support your ideas.
Each step in the GOBRADIME design process calls for certain types of tools, and as you can see, there's a lot of crossover.
​Most of our favorite digital tools for digital permaculture can be used in a variety of ways, so here's an assortment of recommendations so you can explore and find what tools work best for your situation.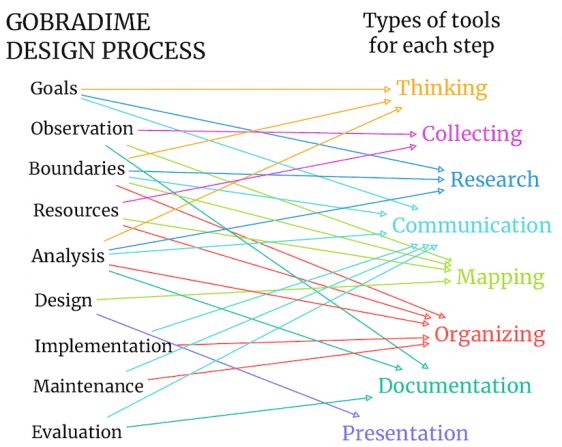 Which apps and digital permaculture tools are best for permaculture designers?
Truth be told, you can probably envision, collaborate, build, and present your multi-layered permaculture design project, using only the digital permaculture tools that came with your computer and/or the free apps provided by Google. You can make drawings, presentations, documents, spreadsheets, videos, and more. 
Reasons to use other apps and digital permaculture tools (besides Google and/or what came on your device)
They offer specialized capabilities that your native apps don't.
They give you quick access to special information that would take much longer to find by other means.
They are often easier to use, and tend to come with good tech support, whereas the tech support with your built-in apps will be a bot, at best.
They make it possible to do things you never thought possible, with just your phone, tablet, or laptop!
When it comes to choosing what software, apps, and Digital Permaculture tools to use, it can be hard to know where to even start. Especially if you're still a student and/or if you aren't super computer-savvy, the idea of downloading a bunch of stuff gets overwhelming. Also, permies tend to be… er… frugal, and we definitely don't want to pay $30 and more every month for use of a tool that we could find for free and/or purchase for a one-time payment that supports an ethical company.
To spare you the confusion, annoyance, and accidental credit card payments we endured, we've tested and curated a collection of tools we can confidently recommend.
And they're cheap! Most come with a robust free trial, and you could go all-in on the most expensive version and still only spend a few hundred bucks. In rare cases, we have included apps that offer a monthly membership, but only in cases where the free version of that tool is absolutely adequate for all of our purposes as permaculture designers.
Free and easy Digital Permaculture apps for beginner designers
(Personal pics from a technologically challenged designer)
Jitsi Meet, for meeting with clients, students, and stakeholders. Use the screenshare feature to review maps and data together.
Loom for creating fast, easy to share screencast video presentations and tutorials.
Trello, for brainstorming, creating task lists, collaborating with others, and so much more.
Canva, for creating charts, diagrams, infographics, and all sorts of graphic designs, easily.
Notebook, for collecting field data, organizing information, and creating scrapbooks.
Sketchbook, for drawing and rendering multi-layered designs. Import images, draw shapes, add text, and more.
Google Slides, for creating PDF design presentations. There are so many apps that do this, but Google Slides is just so dang easy and it works from anywhere.
Otter Voice Notes, for keeping track of ideas and transcribing meetings.
Many apps can do a Reverse Image Search, and it's super helpful for identifying plants, insects, birds, rocks–you name it! This is the best one for iOS.
Whichever AR Measurement app came with your phone. Use these all day, every day, when working out the placement of plants and components on your site.
Whichever photo and video editing apps came with your phone. Learn to take good photographs, and take the time to edit them. If you let them, your permaculture photos could educate thousands!
Untools. Because it's amazing.
Want to learn more about Digital Permaculture and other topics related to permaculture, sustainability, and whole-systems design? We offer a range of permaculture design courses based on permaculture design principles:
FREE (donations optional) online courses!
50+ Digital Permaculture Tools and Apps for Permaculture Designers
All of the digital permaculture apps mentioned on this page, PLUS a bunch of super-useful mapping apps, are linked in this PDF.  
This list includes 50+ free, cheap, and open-source Digital Permaculture apps and web-based tools. These are NOT affiliate links. This is a curated, tested resource list, offered as a service to the permaculture design community, based on professional recommendations and hands-on trials with each tool.
Permaculture Design on Your iPad
We won't get into the pros and cons of each type of device and system, but for sure if you have a device that works with a digital pencil, a whole world opens up for you as a designer. The iPad with Apple Pencil is an AMAZING tool for digital permaculture design.
More Tools and Tutorials
Once you've got your apps picked out and have started getting comfortable with digital tools in general, you're ready to watch some tutorials.
We've assembled an evolving collection of tutorials on creating permaculture designs, and they come from a wide range of sources. Some videos will appeal more to you than others, and that's the idea!
Digital Permaculture: Google Earth for Farmers – video
Soil mapping has been around for quite some time and is now all digitalized thanks to Google Earth for Farmers which allows farmers to plan ahead by allowing them to see where to plant their crops.
With Google Earth for Farmers mapping solution it is possible to find out where a farm is and then add other information to that image like water levels, soil and capacity of landscapes,
You can use Google Earth Pro desktop version for free. It may take a bit of practice to learn how to import multiple data sets into Google Earth, but once you've done so, you can begin using them to evaluate soil types across an entire region.
Google Earth for Farmers: Drawing and Measure Tools
Google Earth is an extremely useful tool for farmers. It can help them survey their fields, scout crops, apply fertilizer at different rates, and measure yield.
Farmers must gather all the relevant data into one location, so they can use it to decide which crops to plant and where to plant them. They can then use Google Earth layers to combine topographic map, soil types, and other tools to help them plan their planting strategy.
Digital Permaculture: Garden Design with OmniGraffle – video
Permaculture gardening focuses on creating healthy ecosystems by using techniques such as companion planting, intercropping, biointensive crop production, polyculture, and integrated pest management. It's all about designing systems that mimic nature. This helps us to use less resources, produce more food, and make better use of our land.
In this video, John Trefethen demonstrates the Permaculture garden design that he has assembled, and how to create overlays.
How to Use Standardized Scale for Permaculture Design – video
In an effort to make the production workflow easier, Daniel Halsey shows how he has standardized the size of all his plant labels, so they can easily be scaled down to fit any project.
How to Use Google Maps to Create a Landscape Base Map – video
In this video by Localscapes, you can see how to use Google Maps to create a base map for your property.
Landscape Design and Permaculture Garden Drawing with Your iPad – video
Permaculture gardens are aesthetically pleasing because they combine plants that attract butterflies, birds, bees, and other beneficial insects.
Digital Permaculture: How to Make Sector Map – video
In this video, Wellspring Forest Farm & School shows an example of sector mapping so that anyone can start learning how to do it on your own site.
Permaculture Design in Illustrator – video
Dan Halsey of United Designers and Pete Widin of the The Epic Ecopreneur review a 1.5 acre suburban permaculture design.
They cover some project background, design considerations, and get deep into the way the project plan is displayed and how the layers are working in Illustrator.
Permaculture Design Swales: How to Use SketchUp Countour Lines – video
In this video, Sustainable Survival gives a brief explanation on how to utilize Sketchup and Google Earth to make a contour map for a property to help in permaculture garden design.
Digital Permaculture: How to Create Free Topographic Maps – video
This brief tutorial by Canadian Renegade shows how to make topographic maps of your property using ArcGIS Pro.
These maps can be used to get a better understanding of the water and energy flows on a property and give a different perspective than you get from the ground.
Permaculture designs can be applied directly to the maps by hand or potentially designed right in ArcGIS.