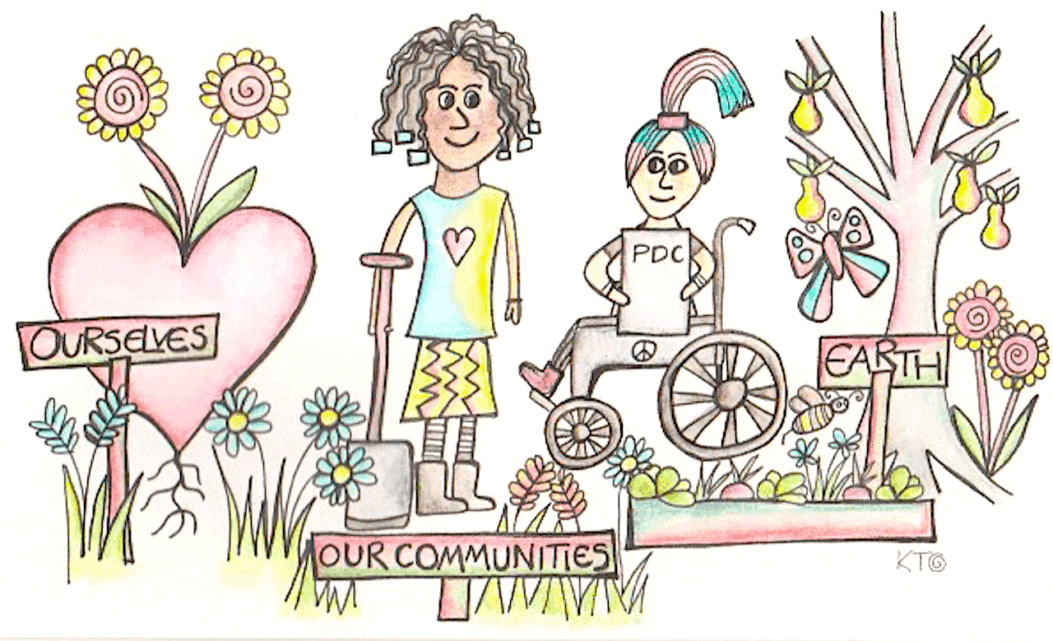 ​Permaculture is community, human and non-human, interconnected.
Whether this is the first time you've heard of permaculture, or you're sure you already know what it is, it's important for us to launch our course with this fundamental inquiry, and investigate the ways in which we can agree on our basic purpose while still holding space for a diversity of attitudes and approaches.
What is permaculture? Here's the short answer:
Permaculture is a strategic, systematic approach to changing our homes, gardens, and lives so that they regenerate, rather than annihilate, the Earth.
Why Permaculture?
Permaculture designers transform scarcity into abundance.
The permaculture process balances human needs with the needs of other species.
A permaculture design creates systems made up of organisms, mechanisms, and feedback.
Plus, it's super fun and personally rewarding. A permaculture design process can help you:​
Heal the planet
Give back what you take
Create solutions to problems on any scale
Manifest your personal potential
Improve your day-to-day experience of life
Unleash your inner geek!
Wait, did you come here to learn about gardening?!?
Yes, we will get into that too, but permaculture is and does so much more than create beautiful, abundant gardens. As we go deeper into our studies, over the next 52 weeks, we will learn many ways to work with plants. But first, let's look at the foundational reasons why plants are so important, by exploring the ideas that started the permaculture movement, back in the 1970's.​
Bill Mollison and David Holmgren, who coined the term "permaculture," taught from an ethical and ecological basis that used
Birch's Six Principles of Natural Systems, as follows:
Nothing in nature grows forever. There is a constant cycle of decay and rebirth.
Continuation of life depends on the maintenance of the global bio-geochemical cycles of essential elements, in particular carbon, oxygen, nitrogen, sulphur, and phosphorus.
The probability of extinction of populations or a species is greatest when the density is very high or very low. Both crowding and too few individuals of a species may reach thresholds of extinction.
The chance that a species has to survive and reproduce is dependent primarily upon one or two key factors in the complex web of relations of the organism to its environment.
Our ability to change the face of the earth increases at a faster rate than our ability to foresee the consequence of change.Living organisms are not only means but ends. In addition to their instrumental value to humans and other living organisms, they have an intrinsic worth.
And here is the original list of permaculture principles, as presented by Mollison and Holmgren:
Work with nature, rather than against it.
The problem is the solution. "You don't have a slug problem, you have a duck deficiency."
Make the least change for the greatest effect.
The yield of a system is limited only by the information and imagination of the designer.
Everything gardens, and is in relationship to its environment.
It is not the number of diverse components in a design that leads to stability, it is the number of beneficial connections between these components.
All design is ecological design, in that all designs, whether intentional or not, affect their environment.​
We'll come back around to these principles and many more, but for now can you see how these ideas could help you to design not only a garden and homestead, but also a social and emotional landscape that is more resilient, abundant, and safe than the current (degenerative) systems in which most of us now exist?
To understand better what permaculture is and isn't, watch this video (excerpted from. the PDC, as you'll hear me say here):
What is permaculture? Here's the long answer.
Several modules of the Permaculture Women's Guild online certification course, (which I also organize,) are available for free. It includes the content from the above article, plus several more videos, a detailed exploration of permaculture basics, and a list of essential resources. So, if you haven't already checked out the introduction to permaculture class that serves as our first module, then jump in! It's fun!
Homework!!
Every class in our course includes hands-on ideas to help you think, write, discuss, and dive deep into experimenting with these ideas in your daily life.
Questions to Ask
Could you improve your day-to-day quality of life by improving your relationship with the natural environment? How?
Could you improve your local community by improving its relationship with the natural environment? How?
Can you find areas in your life/home/garden/community where you are working against nature, rather than with it? Make a list.
How do all of the aspects, elements, and components of your life/home/garden/community work together in a system?
Where can that system be improved so that it promotes healthy, regenerative relationships
Things to Try
This week it's all about just opening the door….
Geek out on permaculture for 20 minutes every day.
Explore YouTube, visit Facebook groups, and talk to your neighbors. Read books, read magazines, and just allow yourself to get lost.
Start to think about your goals, and talk with your family about what you would like to accomplish in terms of applying permaculture design strategies to your living environment.
(Side note: Don't get distracted by internet trolls! They're everywhere, and sadly, prevalent in almost all of the online permaculture forums. For a list of troll-free, welcoming and informative facebook groups that will get you started, go here., and to join the private, troll-free, still tiny but growing private forum we created for you, go here.)​
Relevant Links and Resources
This beautiful documentary explores some of the ideas about where permaculture techniques came from and reminds us how much we can learn from some indigenous cultures, about caring for nature.
Maddy Harland, permaculture pioneer, author, publisher, and founding editor of Permaculture Magazine UK, interviewed by Cassie Langstraat of Permaculture Magazine USA
Bill Mollison and David Holmgren explain the core strengths of permaculture.
Here's an awesome 90 second introduction to permaculture with Xochiquetzal Salazar.