Begin your permaculture journey with a set of tools and skills you can apply to any situation.
Permaculture is a way to grow food that goes beyond organic gardening and creates sustainable food forest ecosystems that will produce for many generations to come.
But permaculture isn't just about plants.
It's also about whole-system design.
It's about creating abundant human habitats in our homes and local bioregions, that provide for us while still protecting and regenerating the natural environment.
You can use permaculture principles to solve problems in all aspects of your life, and this course will show you how.
These are the main questions this course was created to help you answer:
What is permaculture and how can you start doing it?
How does design thinking create new opportunities?

How do you start a permaculture garden if you rent or live in

an apartment?
How much land do you need to do permaculture?
What do you look for when assessing a site for permaculture?

What is a step by step permaculture process that works for any project?

How can you find more free permaculture courses and resources going forward?
The beginner-friendly course goes beyond an introduction to permaculture and includes 6 classes, 15 videos, dozens of graphics and photographs, and a dedicated private discussion forum where you can share your work and get feedback. Go at your own pace, once you've enrolled you retain access to the course forever!
Learn how to grow food and build community, no matter where you live.
Starts Soon!
The first 100 people who enroll will have a chance to attend free live gardening classes with Heather Jo Flores! Join the waitlist now to make sure you're the first to know when doors open for enrollment:
How can permaculture design help you solve problems in your life and in your community?
Permaculture is a design system that can help you to:
Improve your ability to make the most out of your available resources.
Learn to read the landscape and recognize patterns and opportunities.
Find and connect with like-minded people.
Understand how to look at a whole system, so that when problems arise, whether in the garden, home, or beyond, you can find solutions that work in the long term.
These skills don't just help you become a better gardener, they also radically improve your capacity for ecological, social, and personal abundance.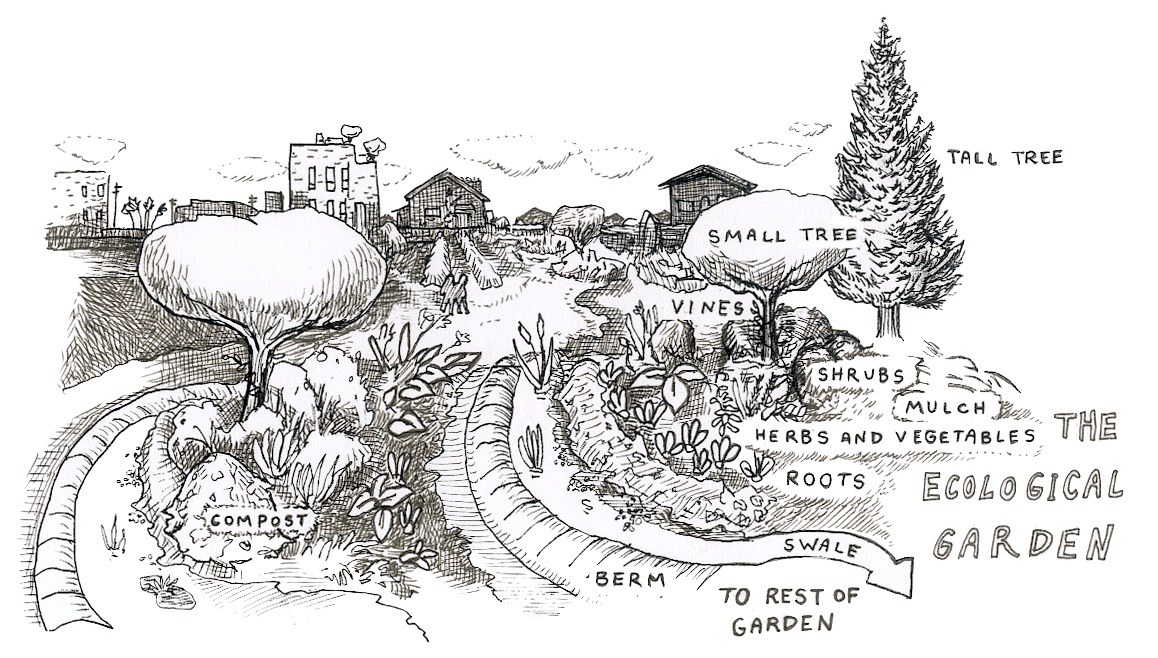 So, is permaculture a synonym for ecological design?
Yep, basically! And, if you think about it, you are already an ecological designer.
Do you ever think about the fact that, no matter what you do, all day every day, you are impacting the environment?
Every action has a reaction, and every movement, every placement of an object, every planting of a seed provokes a ripple effect.
But this awareness can be overwhelming, and it's hard to know what we can possibly do, as individuals, to contribute to positive change. We might even want to just throw up our hands and give up!
Learning how to see the world though the eyes of an ecological designer is the first step to becoming more sustainable, more resilient, and more abundant, and permaculture gives us a way to empower change in ourselves and others, and to break out of the cycle of apathy and overwhelm.
Grow food. Build community. Heal.
But what if you live in a rental or in an apartment?
What if you're a single mom or have a really intense job or you're living in poverty--how are you supposed to make time to practice permaculture principles?
How do you even think about planting a perennial paradise permaculture food forest, when the day to day reality is so full of challenges?
Here's the thing: permaculture thinking can be a huge help with these predicaments too! A designer's mind will help you to innovate your way through these challenges, and so much more.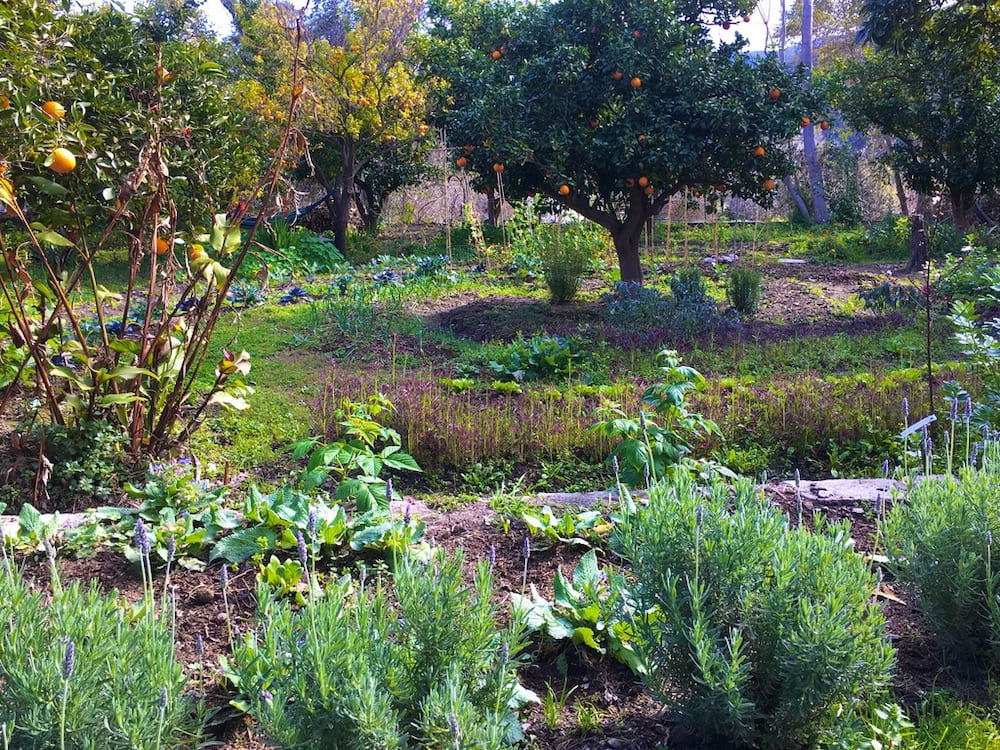 Create your abundant future, starting today.
This course isn't about your future eco-dream home. It's about embarking on your journey as a design thinking and ecological innovator, starting wherever you live right now.
Who's teaching this course?
Hi! I'm Heather Jo Flores. I'm a Chicana writer, farmer, musician, artist, educator and introvert, who dropped out of high school when I was 15 and left home to become an activist. Since then, I have participated in a wide range of environmental and humanitarian projects, from Greenpeace to Earth First! to Food not Bombs, building coalitions, blockading logging roads, and cooking at soup kitchens in action camps from Mexico to Canada.
I founded the original chapter of Food Not Lawns, in Eugene, Oregon, in 1999, and wrote Food Not Lawns, How to Turn Your Yard into a Garden and Your Neighborhood into a Community, which was published by Chelsea Green Publishing Company in 2006 and spawned an International movement. I founded Permaculture Women's Guild in 2017 and started the #freepermaculture project in 2018.
In my mid-thirties, I went back to school, and earned a Bachelors and a Master's degree, studying not just permaculture as a set of tools and techniques, but also diving deep into how to teach permaculture to diverse audiences, and especially to folks like me, who respond better to non-traditional schooling and alternative pedagogies.
My classes are about being creative, getting dirty, and generating a diversity of beautiful results that can be shared. Inside, you will find an equal balance of video, artwork, infographics, photographs, written materials, and links to a wide variety of supporting materials.
Before you study with me, know this: my devotion is and has always been 100% with the plants. The seeds are my gurus (and dog is my copilot!) My goal with any and all of these programs is to get you out there working with the plants, and to get you thinking about this work in terms of the whole-system design that is your short life here on Earth.
What students say about my online permaculture courses

"The articles and videos, coupled with Heather's explanations and highlights, appeal to a variety of learning styles and make the material super accessible. I so appreciate all I've learned and the new questions I have!"

"A truly inspiring & transformational course. Heather Jo's wisdom, guidance, tools and energy will feed your well and offer you practical resources, uplift and reconnect you to self and nature in creativity, enduring ways. Highly recommend you dive in."

"Heather has such a warm, welcoming energy about her that I felt I was getting advice from an old friend. Her demeanor kept me coming back to "class" day after day and making the effort to really drill into the coursework."

"Amazing! Heather gives you so much valuable information and experience of putting ideas into practice. She is a joy to listen to and gives you a wealth of information you will be able to refer back to for years to come."
A section of the instructor's 1/4-acre Mediterranean food forest at her house that she rents in Spain.