You never change things by fighting the existing reality. To change something, build a new model that makes the existing model obsolete."
–Buckminster Fuller
What is the Art of Hosting?
this section by Silvia Di Blasio
​​Social permaculture includes how we host ourselves and others, how we face challenges, make decisions and govern ourselves in non-hierarchical, non-oppressive ways. It shares the systems' view of life that is central to permaculture design and includes ever-evolving practices, methodologies and ways of thinking that will stretch your edges and expand your sense of connection, compassion and belonging.
The Art of Hosting (AoH) is a series of practices, ways of thinking and methodologies to facilitate addressing challenges and decisions collectively.
​There are no leaders in the AoH, only hosts. As the name indicates, the AoH is an art that considers how each one of us host ourselves and how we host others. It covers how we show up, dress, behave, listen and respond, participate and contribute, and how we acknowledge, observe and respect the land, and the history and the peoples (human and non-human) who are hosting us.

​What does the AoH have in common with permaculture?
​​If you have had the opportunity to engage in community work, group work in any type of organization or even be part of a permablitz, project or gathering, you may have noticed that things may not always go as you expect: people are always at the center of any decision-making process, design, communication and governance processes and those processes are what represent the challenge.
Although we may not lack the technology, skills, strategies, methods and resources to move forward, we need people on the same page if we want to achieve anything. This applies not only to community projects but to households, couples, groups and organizations of any kind.
Here's an introduction to the practice overall:
The Art of Hosting is a lexicon of participatory methods dedicated to building connections and fostering teamwork in community.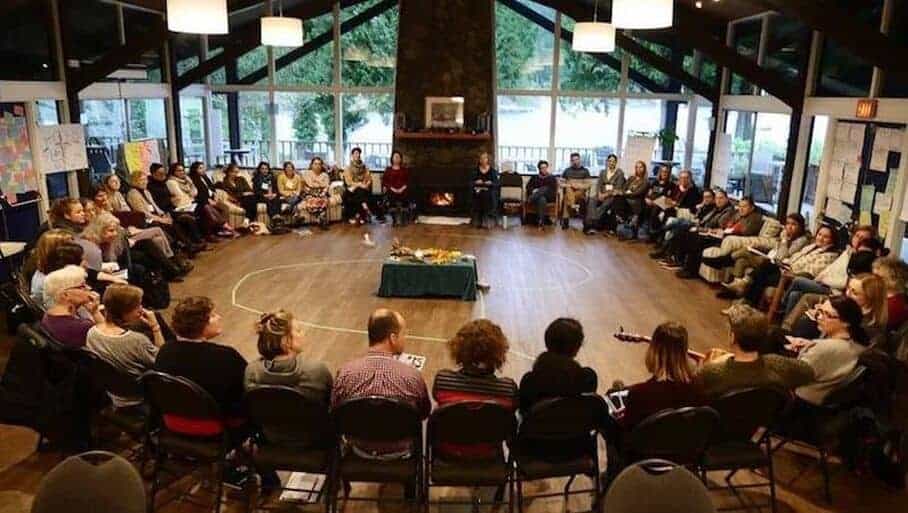 The methods and group processes, activities and strategies that may fall under the Art of Hosting are almost endless and are ever-evolving as we learn and discover new ways to do things together. There is no one-size-fits-all in working with people. The decision of what to use will depend on various factors, including:
Size of the group.History of the group and levels of trust.
Type of process or goals that you want to achieve (i.e. visioning, discussing conflict, goat-setting, planning, designing, decision-making, etc.).
Time, space and other resources you may have available.
Needs of the land and other beings impacted by the process.
Here is an overview of techniques that could be combined with or used instead of AoH:
The Circle Way.
This is an alternative infrastructure for collaborative conversations. Created by Christina Baldwin, the circle has ancient roots in women and village circles from many cultures. The circle can be used as a tool in itself or as a checking in and/or checking out process. It is better for small groups of people who know each other well or share a goal or values, but can be used for almost any issues and time-frames.
It has some core components, as follows.
Three principles:
Leadership rotates among all circle members.
Responsibility is shared for the quality of the experience.
Reliance is on wholeness rather than in any personal agenda.
Three practices:
Speak with intention.
Listen with attention.
Tend to the well-being of the circle.​
The circle way also shares some basic agreements that are always clarified at the beginning:
We hold all stories of personal material in confidentiality.
We listen to each other with compassion and curiosity.
We ask for what we need and offer what we can.
We agree to employ a group guardian to watch our need, timing and energy.
We agree to pause when we feel the need for a pause.
World Cafe
​The world cafe is a process to foster interaction and dialogue with both large and small groups. It is better used for exploring possibilities, as a huge brain-storm that includes many layers of questions going deeper and deeper. It also fosters interaction and dialogue and helps to survey the collective wisdom of a group or community. It can be adapted to many formats and purposes such as information sharing, relationship building, deep exploration on a topic and action planning.
The World Cafe operating principles are summarized here:
Creates hospitable space.
Explores questions that matter.
Encourages each person's contribution.
Connects diverse people and ideas.Everyone listens together for patterns, insights and deeper questions.
Makes collective knowledge visible.
The general flow of a World Cafe in six basic steps
Seat 4-5 people at a cafe-style table or in conversation clusters.
Arrange flowers in the center, provide big sheets of paper and markers or other form of expression.
Set up a progressive round of conversation, usually 20-30 minutes each–have some good questions!
Ask one person to stay on the table as a host while the rest rotate to separate tables as ambassadors of ideas and insights.Ask the table host to share the key insights, questions and ideas briefly with the new people.
People may harvest and express their ideas by drawing and writing on poster-size sheets.
After all the rounds have gone through all the layers of questions, give a moment for each final group to harvest and share.
Open Space Technology (OST)
OST is useful in many contexts, including strategic direction-setting, visioning, conflict resolution, morale building, consultation with stakeholders, community planning, etc.
The goal of OST is to create a space for people to engage deeply and creatively around issues that concern them. These issues may be challenging or involve diverse stakeholders, may involve complex elements, presence of passion (and potential for conflict). OST may be employed when there is a need for a quick decision.
Some of the principles present in OST include:
Whoever comes are the right people.
Whenever it starts is the right time.
Whatever happens is the only thing that could have.
When it's over it's over.
The group usually convenes in a circle. The facilitator provides an overview of the process and explains how it works. The facilitator invites people with concern to come into the circle, write the issue on a piece of paper and announce it to the group. These people become the conveners. They place their papers on a wall and choose a time and place to meet. This process continues until there's no more agenda items.
The group is then invited to break up and go to the agenda items they are more interested in discussing.
Once the items have been discussed in the different groups, everyone will move into convergence again: they would attach the different discussions to action plans that may happen outside of the space and time (next steps, committees and commitments).
Pro-Action Cafe
In the Pro-Action Cafe, participants are invited to bring their call, project, ideas or questions. It is a blend between World Cafe and Open Space Technology.
It is great as a cross-pollinator of ideas, projects, etc. and useful for garnering support for existing issues and projects.
Similar to the process in OST, people start in a circle. Those with ideas, questions or projects are invited to write them down and present them. They may want to have a pitch to engage people.
The group is usually divided by four (so, in the case of 40 participants, you can only have up to 10 callers of ideas/projects per session).
The principle is first come, first served: people go to the topics that interest them until the chairs or spaces are full and they need to choose a different topic/idea.
​The participants will stay with the caller for 20-30 minutes at each table/space and then move to another one until everyone has sat at each table and contributed. This way, the caller can go deeper and deeper with each round and get ideas and feedback or support for her project from each round of diverse participants.
Collective Story Harvest
This process was developed by Mary-Alice Arthur for the Art of Hosting processes. It invites active involvement of all the present and is usually shared as a story. The story holders tell a story and the members of the audience listen actively from the perspective of a specific question or focus. This is called targeted listening.
How it works:
First you need a story of a process or change that is happening in a community, group or relationship dynamic.
Then, try to have the voices and perspectives from more than one person involved in the story.
The average time is 90 minutes, but if you are doing this for the first time or with people who don't have experience, you may want to keep the story-telling part no longer than 30 minutes.
Decide beforehand with the storytellers, what you want to get out of the process and what will happen with the harvest once it is done.
You'll need at least one person harvesting each arch as this needs to happen simultaneously.
Some arcs to choose from:
Narrative arc: the thread of the story, people, events, stages, facts, emotions and values.
Process arc: what processes, applications, interventions or discoveries happened?
Breakthrough arc: when did they occur? What was involved?
Application arc: what can we learn from this story and apply to our own group, processes, systems?
Questions: what questions arise from this story?
Synchronicity and magic: what happened during this story that was magical or synchronistic?
Any other arc you may want to use?​
Theater of the Oppressed
August Boal was a theater director who believed improvisational games could have a powerful influence on how deeply and quickly humans developed creative relationships. Together with people in workshops all around the world, he co-created hundreds of interactive games that can be done with any group of people. Here is a series of workshops to get you started down this amazing and empowering rabbit hole:
Want to learn more about this and other topics related to permaculture, sustainability, and whole-systems design? We offer a range of FREE (donations optional) online courses!
Relevant Links and Resources​
​Inclusive Meetings and Events
This PermaWiki has selection of techniques that are easy to learn and easy to use that can be incorporated into most situations where people are thinking, learning and working together.
Zenergy! The books, resources, and team-building games at this website are fun, accessible, and super helpful.
What is Sociocracy?
We didn't get into it in this article, but here's a fun intro.