A lot of damage is done to the planet so that humans can have food to eat at all times of the year. Think about all of the packaging, refrigeration, energy consumption, landfill waste, and ocean/air pollution caused by the harvest, storage, and preservation of food. As permaculture designers, our ethics demand that we incorporate these needs into our whole system design strategies.
Four reasons you need a root cellar in your life
They're magical. The smell of the earth, the experience of squirreling your food away–even with some tiny version of a root-cellar-like contraption, the whole thing is just…delicious and fun!
The food retains flavor and nutrients. In some cases, as with ferments, these qualities increase. Not like in a fridge or freezer, where flavors tend to fade and nutrient value decreases over time.
Way, way less packaging. Foods are stored in glass jars, wrapped in cloth, or simply stacked in reusable boxes.
Refrigerators are gross. They're loud, toxic, and consumptive, and most of what you put in there can absolutely be stored elsewhere, with a minimal amount of preparation.​
Assuming you're not quite ready to build a full-on root cellar, this video focuses on storing potatoes on a small scale, AND on using recycled materials!
Oh, you ARE ready to build a full-on root cellar??
If you want to go all in, here's an amazingly thorough 2-minute video on how to build a root cellar that will last for generations.
(These materials could be replaced with recycled sources too!)
And here's a handy chart from Common Sense Homestead, listing temperature requirements for storing a variety of fruits and vegetables.
Want to learn more about this and other topics related to permaculture, sustainability, and whole-systems design? We offer a range of FREE (donations optional) online courses!
You Can Have Your Permaculture and Eat it Too!​
Robyn Clayfield's superbly-written book is one of the very best resources for learning how to integrate food preservation, storage, and fermentation projects into your whole system permaculture design. She really gives plenty of attention to the FOOD parts of this whole thing! And…she gives away a significant portion of the book for free!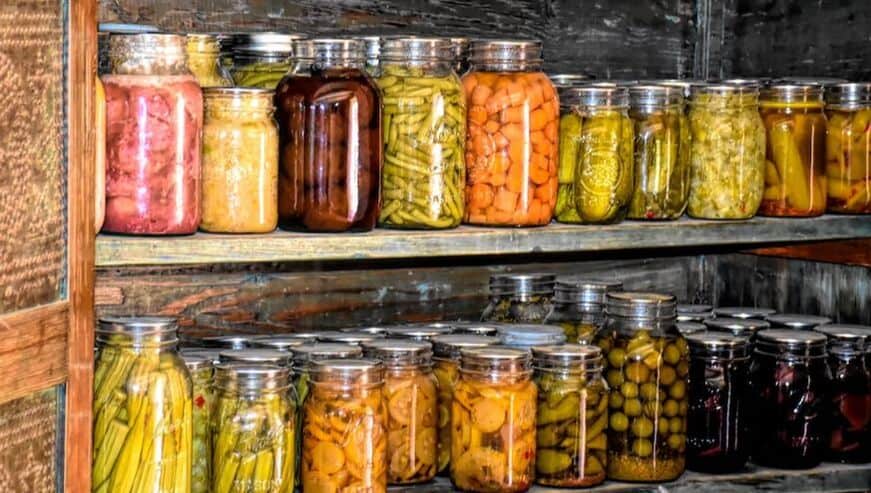 And here's some more great stuff from Crystal Stevens. Check out this article, about how to eat with the seasons and preserve autumn's bounty….And, as always, Permaculture Magazine is filled with good info on this topic. Here are a couple of good ones to start with: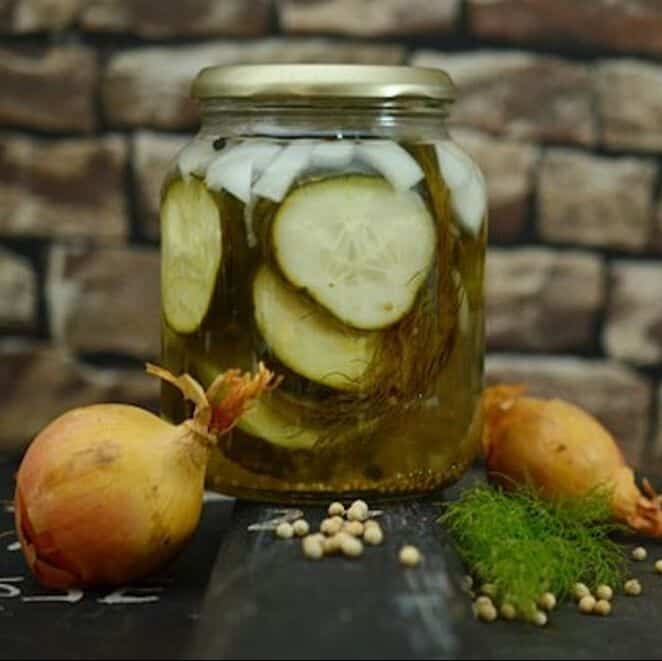 Sandorkraut and the Art of Fermentation
If you're interested in fermentation and in learning how to make a huge variety of yummy foods that will keep for many months without canning, sugar, vinegar, or refrigeration, then you're definitely going to want to get into the work of Sandor Katz. Check out this lovely interview, "What Sandor Katz wants you to understand about fermentation," and visit the lively discussion forums on his website, here.
And for an introduction to making your own sauerkraut and kimchi, start here.
This passive-cooling "refrigerator," called a "draft box," mounts onto the north side of the house and uses convection to pull cool air through the shelves.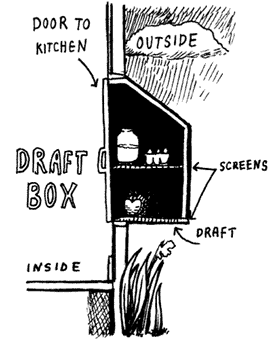 How will you integrate food storage spaces, alternative cooling technologies, and places for processing and fermenting foods into your whole system site design?
Relevant Links and Resources​
Hands-On Sauerkraut Video!
Here's a gorgeous piece on the Art of Food Preservation, and on living with no fridge.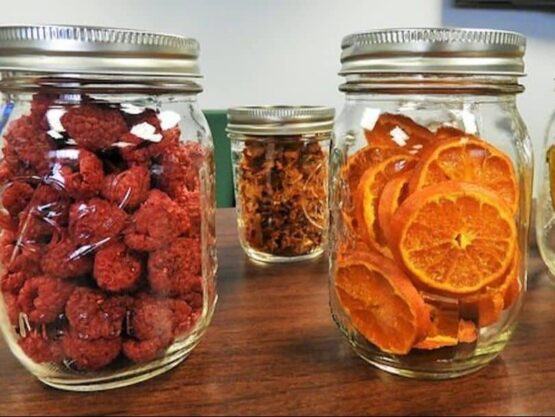 This reflective essay discusses kitchen gardening through a permaculture lens.